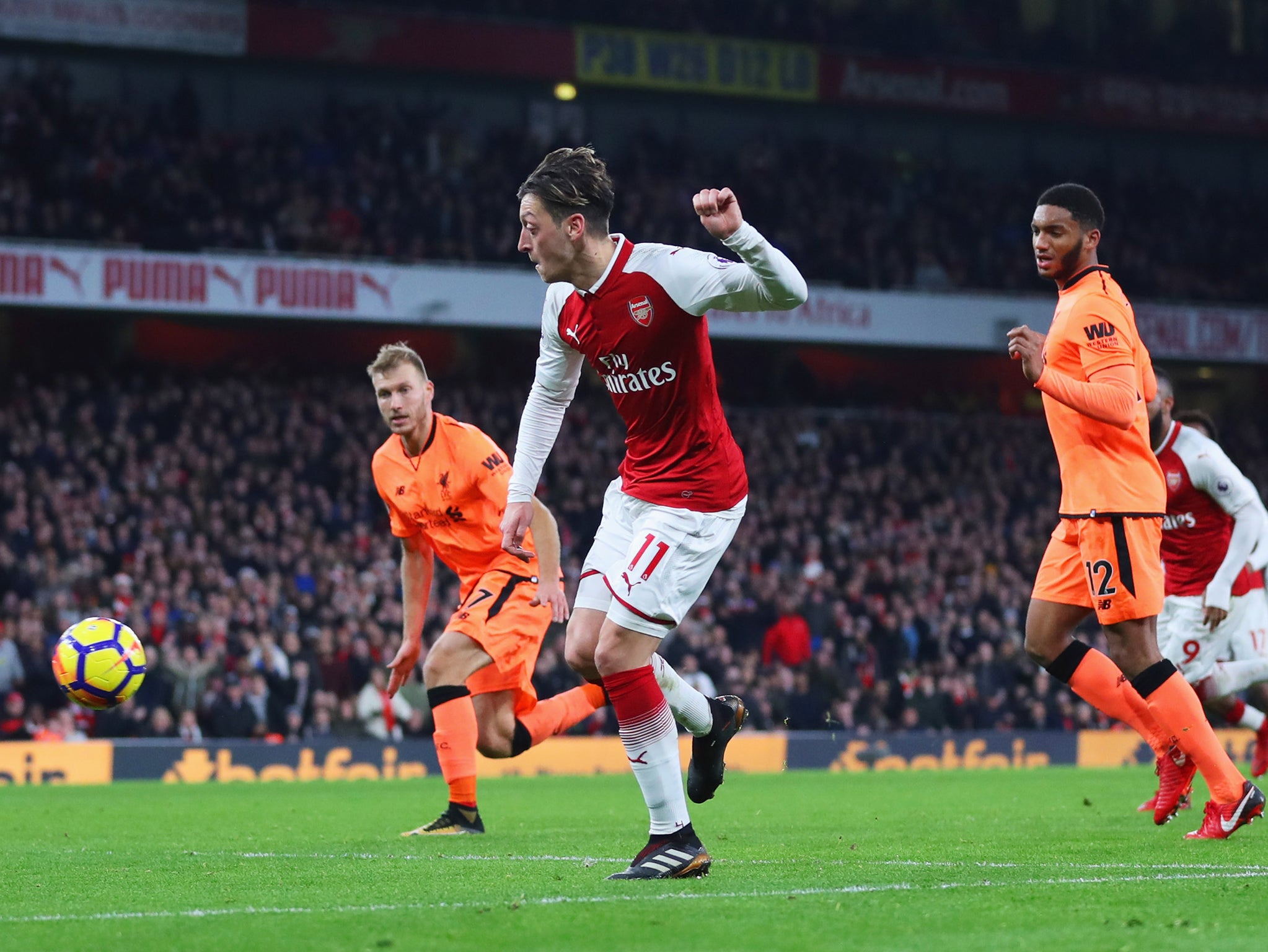 Arsenal and Liverpool played an impressive match in the Emirates as both sides decided to abandon the art of defense for a total attack, for the enjoyment of the rest of us, except the Independent's liveblogger and his blistered fingers.
Liverpool went ahead through Philippe Coutinho's short-range header and the deflected shot by Mohamed Salah. But Arsenal returned in a sudden attack of goals in the second half, crowned by the delicious chip of Mesut Ozil on Simon Mignolet.
However, Roberto Firmino achieved a draw to trade Jurgen Klopp's team, by matching a game that neither attack deserved to lose but neither of them deserved to win. Here are five things we learned from the game.
Arsenal vs Liverpool: Player Ratings
Salah is still giving
The curious thing about this performance is that Mohamed Salah was not even that good. It certainly was not at the level it reached in the beatings of West Ham and Stoke City in November, for example. In the first half, some of their final balls did not fall, and a poor touch missed another golden opportunity. And yet, the Egyptian still scored a goal and an assist, though both through deviations, his pace behind a constant threat to the unstable end line of Arsenal. Liverpool may have wasted their advantage, but at least in Salah they have the best scorer in the league and one of their most outstanding artists.
Both sides sober in the back
Arsenal and Liverpool are two of the best teams in the country and, with the Spurs fighting, one would expect at least one of them to reach the top four at the end of the season. But both have their fair share of problems in the back. The Arsenal was cut several times by the "four fabulous" Liverpool and seemed especially vulnerable from the sides. They simply could not cope with Liverpool's counterattack. The rearguard of Liverpool is not much better, with its defense completely shutting down for Alexis Sanchez's goal moments after Salah's second. Both teams are there to arrive.
When will Liverpool solve its biggest problem?
There are some words to describe Simon Mignolet's attempt to save Granit Xhaka, some of them unprintable; the most generous could be "strange". Why did not he put both his hands on her? Instead, he left his right arm fluttering in the wind beside him as he pushed the ball weakly with his left. Clearly, Jurgen Klopp does not have full confidence in Loris Karius, given the German's lack of playing time. The strange thing is that absolutely nobody imagines Mignolet, except for his manager. The January window is just around the corner, but Mignolet has outlived many of them before now and there is nothing to say that his manager will lose faith now.
Simon Mignolet was at fault for Arsenal's second goal (Getty Images)
The injuries take their toll
Throughout Europe, clubs are looking forward to their well-deserved winter break. But in England, the games keep coming fast and dense. It's a grueling time of year for clubs across the country, and the hectic holiday season can often make or break a season. Neither is it about winning: entering the new year with good health is so important.
Therefore, both Arsenal and Liverpool hope desperately that they will be able to recover their wounded at full speed soon. Jordan Henderson limped and grabbed his hamstring after just 10 minutes for Liverpool, while Nacho Monreal disappeared in the break for the hosts. Both men will be missed.
Ozil is flying, we will miss him
Alexis Sánchez was thought of as the man Arsene Wenger needed to keep his star players on the verge of leaving the club. But Sanchez finished the game on the bench and it is Mesut Ozil who has found his best form in recent weeks, his volley against Newcastle last weekend even better than his cheeky chipped finish here. He has been the outstanding player of Arsenal in recent times and with his contract low is a reminder of how much he will be missed when he is sure to leave.
Reuse content